Benchmark Source 15 Newsletter
Benchmark Source 15 Newsletter
Benchmark's newest edition of the Source newsletter is now available for everyone to view.
To take a look at our newsletter, please follow this link : Benchmark Source 15 Newsletter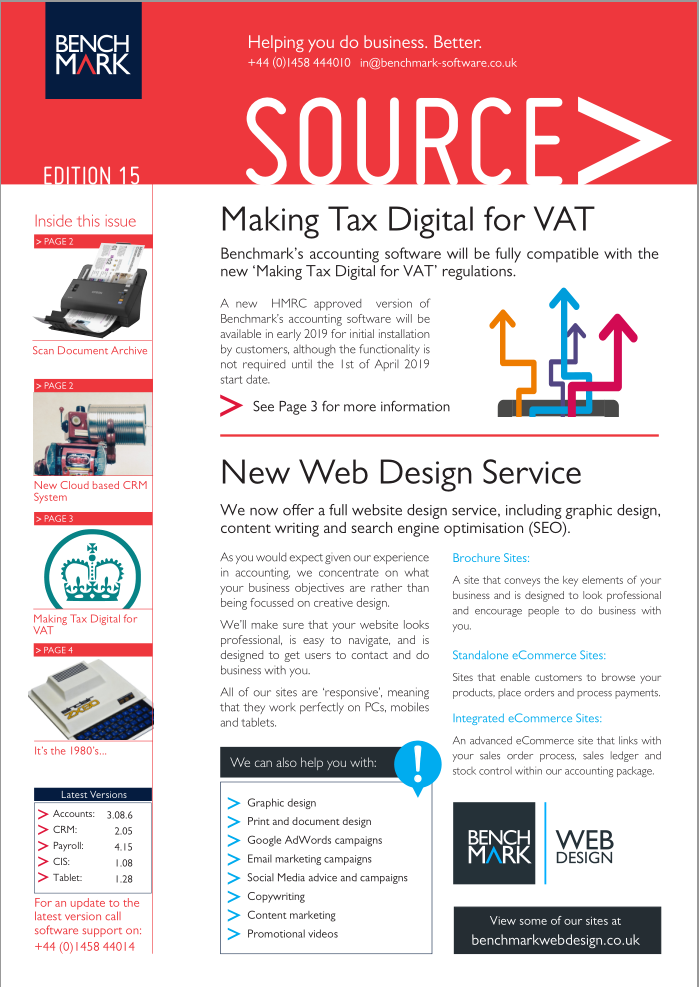 The newsletter includes the latest projects that we have been working on and future software features that you should know about. Most notably in this version of the newsletter we explain a bit about the Making Tax Digital for VAT changes that will be added to our software to be compatible.
Since our last newsletter we have made significant additions both to our company and the products we provide. We have built a new Cloud based Customer Relations Management (CRM) package to offer a cloud solution to our current Cream software. We have also added a new area to our business by taking on an experienced Web Developer, allowing us to create fully integrated Ecommerce websites and build bespoke Web Applications.
Here are a list of subjects included in the newsletter:
Making Tax Digital for VAT
Benchmark's new web design service
Auto Enrolment Tri-Annual Re-enrolment
Scan Document Archiving
New Benchmark Cloud based CRM Software
Future Cloud Accounts system
Paymentsense Payment Solutions
Free Benchmark Auto Backup program
Benchmark Museum of Vintage Computing