Plumbers Merchant Software
Plumbers' Merchant Software That Comes Up With The Goods…
Our point-of-sale software manages the complexities of running a plumbers merchant and gives you the tools you need to keep your customers happy, time after time. It deals with the key issues you will encounter when selling to both tradesmen and the public (wholesale and retail). And because it sits on a powerful accounts package, the Benchmark POS system will manage your sales, pricing, suppliers and stock. But best of all, it's easy-to-use, fast and reliable, so your staff can get to grips with it quickly and you can focus on building your business.
Running a trade counter will never be simple, but it can be a lot less hassle with the right software.
Without this software I wouldn't have a business. It's brilliant!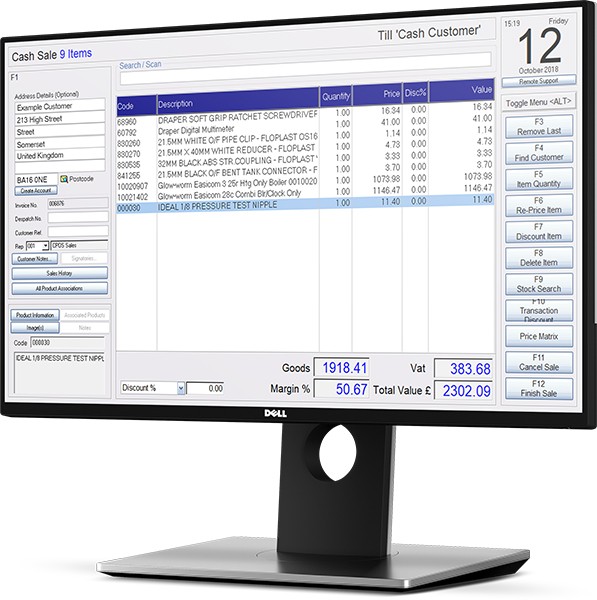 After 40 years of working with Plumbers Merchants, we're confident that our software will do everything you need, and more. There are literally hundreds of features designed specifically for making your trade counter run smoothly, and we have listed the key elements below…
Fast, powerful, easy-to-use point-of-sale
Trade account and cash customers
Multiple pricing and discount options
On-screen customer sales history
Create quotes and convert to sales
Print or email invoices, quotes and delivery notes
End-of-day sales reports
Barcode scanning
Purchase orders and goods in
Sales order processing
Flexible stock control
Integrated card machines
Full back end accounting package
Can be linked to eBay or your website
The items above are an overview of the key features in our trade counter systems. To view a more detailed list click below:
We have two trade counter systems available, Core and Advanced. Both include a full accounting package and have a wide range of options available.
Service & Support that keeps you working…
If your software stops working, so does your business. That's why we produce the most robust and reliable systems possible. But in the real world, things can always go wrong. That's when you'll value the exceptional levels of support that we offer all of our customers.  You won't get annoying phone menus, or "your call is important to us" messages. We'll just get you straight back to work.
Although our software is simple to use, we do offer unlimited support and training. And if you have questions, you can speak to the people who actually wrote it. No jargon, no tech-speak, just answers.
We've been helping businesses like yours since 1978. Many of our customers have been with us for over 20 years. Some for over 30. They stay because they trust us.
Speak to us
Give us a call for a no‑nonsense chat about what you need and how we can help you.
No tech speak.
No hard sell.
No flannel.