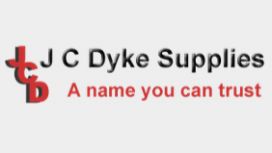 Market Sector: Building Products
Established: 1992
No. of employees: 18
With Benchmark since: 2014
Background
J C Dyke operate from several branches and supply an impressive range of over 10,000 products. They deal with trade and DIY customers and operate both credit accounts and cash sale transactions. Prior to becoming a Benchmark customer they were not using any other software in their sales transaction process.
Problem
J C Dyke pride themselves on the service they provide their customers. However, as the business expanded and more product lines were added and turnover increased, it became more and more difficult to serve customers quickly and efficiently using their old manual systems. They were also unable to accurately and easily analyse sales trends to help them with stock management and sales promotion.
Solution
After spending time listening to exactly what the team at J C Dyke wanted to achieve, we were able to supply them with an efficient Point-of-Sale system that incorporated barcode scanning. This  revolutionised the way their sales transactions were processed.
The system sits on a full accounts package and links seamlessly to their stock records and sales and purchase ledgers. This not only improves the buying experience for customers but gives J C Dyke all of the information they need to produce invoices, orders and quotes quickly, manage credit control and update stock levels without any hassle.
As well as supplying software,  we were also able to source barcode scanners and receipt printers in order to get them up and running as quickly as possible. Finally we imported all of their stock records so that the transition from manual to electronic point-of-sale was smooth and hassle free.
Client feedback
Anthony Gillan
JC Dyke Supplies
Return to Case Studies